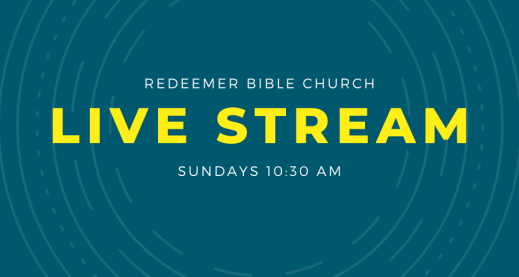 Dear RBC Members and Visitors,
As you may already know, there has been many precautionary steps taken to prevent the spread of COVID-19 (Corona Virus). We at RBC want to do our part as good stewards and loving neighbors for the glory of Christ.
To this end, we have decided to suspend all Sunday morning gatherings and small group meetings (including discipleship) until April 5, 2020. We have decided to take this measure for two reasons: 1) to reduce the transmission of COVID-19 and 2) to submit joyfully to governmental authorities. The governor has requested that large group gatherings be suspended until April (see here). Also, the City of Oceanside, from whom we rent our facility, has decided to halt all gatherings until the end of the month as well.
We will however stream Sunday Morning Services on our Facebook account on Sundays at 10:30am. You may follow along at our FaceBook Link. https://www.facebook.com/RedeemerBibleChurchOceanside1/
In the beginning of April, we will reassess the situation and communicate with you all again. Through it all, let us not forget the words of Christ to His people when they are tempted to fear and anxiety:
NAS Matthew 6:25 "For this reason I say to you, do not be anxious for your life, as to what you shall eat, or what you shall drink; nor for your body, as to what you shall put on. Is not life more than food, and the body than clothing? . . . . 33 "But seek first His kingdom and His righteousness; and all these things shall be added to you. 34 "Therefore do not be anxious for tomorrow; for tomorrow will care for itself. Each day has enough trouble of its own.
Christ calls us not to live in fear or anxiety because of our hope in Him. If you are in Christ, the Bible says that our future is secure even after death. Christians are not to be a people who live in fear of this life, but in trusting the same Christ who said, "I will never desert you, nor will I ever forsake you."
So, pray, trust, read Scripture, encourage one another, and wash your hands.
If you have any questions, please send me an email at the below address.
Trusting in His Sovereign Will,
Angelo L. Tolentino
Pastor-Teacher
Redeemer Bible Church
Oceanside, CA